To join in, copy and paste these rules and the above banner into your Fanged Mania post and add your link to this week's Fanged Mania post at Elisabeth Wheatley's Blog. Fanged Mania is a Friday meme counting down to the release of Fanged Princess and displaying all things vampire and awesome. Fanged Mania posts can be a review of a vampire book, a quote from the latest Vampire Diaries episode, a showcase of a cool vampire book's cover, or whatever you like so long as it is vampire related. Don't forget, participants will be entered in the drawing to win a fanged-abulous prize pack!
The prize pack I mentioned includes Vampire Diaries and Breaking Dawn posters as well as a paperback copy of Erica Steven's Captured (my review here) and the complete collection of The Vampire Hunter's Daughter stories by Jennifer Malone Wright, in paperback, too! =D
Oh, and the contest is international. And the more Fanged Mania posts you have, the more entries you get! So what are you waiting for? Hop on the bandwagon!
I thought I'd have a little fun with this post and show you some of my favorite Ladies of the Night!
Santanico Pandemonium ~ From Dusk Til Dawn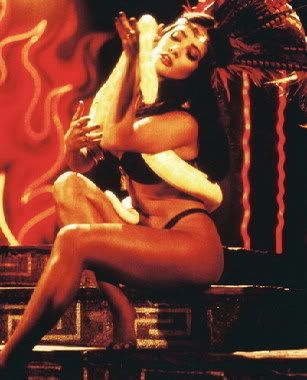 But this is what she really looks like!
Another vampire that really slithers so sensually is Akasha ~ Queen of the Damned
Never have I seen someone move like this!
And there's the brides from VanHelsing
They're not quite so sexy really!
.
There are so many more I could show you but then this post would be huge! I love Kate Beckinsale as Selene in the Underworld series. There's Lucy and her twisted transformation in Bram Stoker's Dracula. Another I really enjoyed was  Sheryl Lee's role as the prostitute, Katrina, in John Carpenter's Vampires.
.

.
These ladies of the night are fascinating. But I still wouldn't want to be one!
How about you? Do you have any favorites?
Related articles